NATURE POEMS
Poems about nature attempt to capture the beauty and wonder of nature.
All you need in life to lift your spirit is to take a moment and gaze at nature's beauty.
Nature Poem about Autumn
'Tis autumn now; the corn is cut,
But other gifts for us are spread,
The purple plum, the ripe brown nut,
And pears and apples, streaked with red,
Among the dark green branches shine,
Or on the grass beneath them fall;
While full green clusters deck the vine
That trails o'er trellis, roof, and wall.

In our dear land the la-den trees
Be-speak God's providence and love;
He sends all needful gifts like these
For those who trust in Him above.
How good is He to make such choice
Of pleasant fruits for us to grow!
'Tis meet, indeed, that we rejoice
In Him who loves His children so.

~ Author Unknown
We have hand picked a selection of the best poems about nature.


Nature Poem About The Four Seasons
Spring
The fields are rich with daffodils,
A coat of clover cloaks the hills,
And I must dance, and I must sing
To see the beauty of the spring.

Summer
The earth is warmm the sun's ablaze,
It is a time of carefree days;
And bees abuzz that chance to pass
May see me snoozing in the grass

Fall
The leaves are yellow, red and brown,
A shower sprinkles softly down;
The air is fragrant, crisp, and cool,
And once again I'm stuck in school.

Winter
The birds are gone, the world is white,
The winds are wild, they chill and bite;
The ground is thick with slush and sleet,
And I can barely feel my feet.

The last is done, the next is here,
The same as it is every year;
Spring - then sunshine - autumn - snow
That is how each year must go.
Miles To Go
The woods are lovely, dark and deep,
But I have promises to keep
And miles to go before I sleep
And miles to go before I sleep

~ Robert Frost
Nature
As a fond mother, when the day is o'er,
Leads by the hand her little child to bed,
Half willing, half reluctant to be led,
And leave his broken playthings on the floor,
Still gazing at them through the open door,
Nor wholly reassured and comforted
By promises of others in their stead,
Which, though more splendid, may not please him more;
So Nature deals with us, and takes away
Our playthings one by one, and by the hand
Leads us to rest so gently, that we go
Scarce knowing if we wish to go or stay,
Being too full of sleep to understand
How far the unknown transcends the what we know.

~ Henry Wadsworth Longfellow
Nurture Your Nature
The acorn worries little about the oak it will become,
The tulip bulb nestles in the dark prepared to see the sun,
For in the nature of these things is destiny's own seed
The force that spins the planet and hollows the river reed.
We are nature too, we come from dust, we come from stars
Like the oak is in the acorn Providence is ours.

The swan is not yet graceful while traveling on the land
Ah, but when she finds the water, she floats as nature planned.
Watch the fuzzy caterpillar, keep him captive in your hand
But when destiny is done with him, he'll flutter high above the land.
What makes us think we're different or any less bestowed
With gifts that come embedded, that nurtured, will unfold?

Does the moon know its own phases? Is the sun warmed by its own light?
Is the hawk aware of its gracefulness as it glides in perfect flight?
Does the apple tree yearn to apple, does the grass pray to grow?
Do the dolphins leap self-consciously, are they putting on a show?
Or is it only humankind, so aware of its every move,
Too self-concious to relax, and enter Nature's groove?

How do we quiet the persistent mind, that insists that a plan we make,
That maps out neatly, step by step, the course our lives will take?
How do we nurture what's in our nature and trust a greater force,
To lead us simply by the heart and take a wiser course?
We won't find in books nor in tests exactly what to do,
For what is in our hearts to try, is up to me and you.

We trust the force that's in the seed, that directs the night and day
But when it comes to our own lives, we'd rather steer the way.
While we plan our lives and set our goals, can we reserve a place for grace?
And trust that in the greater scheme, we, too, have been set a place?
To all the powers that we hone, let's add an element of trust
That each of us are acorns, too, that there is an oak in each of us.
God and Nature Poems
God the Artist
God, when you thought of a pine tree,
How did you think of a star?
How did you dream of the Milky Way
To guide us from afar.
How did you think of a clean brown pool
Where flecks of shadows are?

God, when you thought of a cobweb,
How did you think of dew?
How did you know a spider's house
Had shingled bright and new?
How did you know the human folk
Would love them like they do?

God, when you patterned a bird song,
Flung on a silver string,
How did you know the ecstasy
That crystal call would bring?
How did you think of a bubbling throat
And a darling speckled wing?

God, when you chiseled a raindrop,
How did you think of a stem,
Bearing a lovely satin leaf
To hold the tiny gem?
How did you know a million drops
Would deck the morning's hem?

Why did you mate the moonlit night
With the honeysuckle vines?
How did you know Madeira bloom
Distilled ecstatic wines?
How did you weave the velvet disk
Where tangled perfumes are?
God, when you thought of a pine tree,
How did you think of a star?

~ Angela Morgan
The Noble Nature
It is not growing like a tree
In bulk, doth make man better be;
Or standing long an oak, three hundred year,
To fall a log at last, dry, bald, and sere:
A lily of a day

Is fairer far in May,
Although it fall and die that night--
It was the plant and flower of Light.
In small proportions we just beauties see;
And in short measures life may prefect be.

~ Ben Johnson
God and Nature
As silver rays of moonlight, glisten off the lake,
A purple haze is all around, that nature decides to make.
Such beauty in a barren scene God's wondrous hand provides,
Appreciate the Earth we have, the wind, the rain, the tides.

Cold crisp air and frosty ground, with rocks as old as time,
Are scattered with perfection, such beauty is sublime.
Celestial light from the moon, and all the stars above,
Shine so silently without fuss, as God's eternal love

~ Bill Hoeneveld
Nature Poem: God's Gift
The beauty of nature,
man and the land,
God's sweet creations
that come from His hand

Birds and butterflies,
a breath of fresh air,
as felt by the heart
God is always there.

You can feel His presence
in the forest and trees,
while on the right path
a warm gentle breeze.

A variety of flowers,
their beauty divine,
a blessing on earth
that comes as a sign.

When out among nature
be thankful for much,
for the greatest gifts
are of heavenly touch.
Nature Poem: Mirror of the Sea
The day that I was given birth
My form enveloped all the earth
And there upon I spawned the land
The rock, the granite, soil and sand.

Seduced by moonlight's sweet refrains
Unchanged my nature still remains
Reflections of the human race
Upon the portrait of my face.

I laugh upon a sunny day
And sparkle as the children play
I softly sigh and wash their feet
Upon the beaches where we meet.

Yet in my dark moods, black as night
My billows roar and foam with spite
All that behold do well to flee
Woe unto them who challenge me

For I am deep and I am dark
With every wave I leave my mark
And in my conscience way down deep
The secrets of my guilt I keep.

I'll rise upon night's rolling gale
And howl my anger through the hail
Then as the sun breaks in the skies
I'll sing of peace and lullabies.

I am the watchman of the global plan
Keeper of the mysteries kept from man
Secrets stored within the earth
The day that I was given birth.

~ Rod Walford
Nature Poem: The Violet
Down in the green and shady bed
A modest violet grew;
Its stalk was bent, it hung its head
As if to hide from view.
And yet it was a lovely flower,
Its colour bright and fair;
It might have graced a rosy bower,
Instead of hiding there.

Yet thus it was content to bloom,
In modest tints arrayed;
And there diffused a sweet perfume,
Within the silent shade.

Then let me to the valley go
This pretty flower to see;
That I may also learn to grow
In sweet humility.

~ Jane Taylor
Nature Poem - Daffodils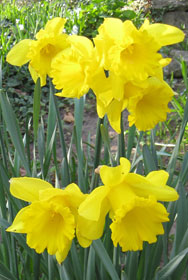 I wandered lonely as a cloud
That floats on high o'er vales and hills,
When all at once I saw a crowd,
A host, of golden daffodils;
Beside the lake, beneath the trees,
Fluttering and dancing in the breeze.

Continuous as the stars that shine
And twinkle on the milky way,
They stretched in never-ending line
Along the margin of the bay:
Ten thousand saw I at a glance,
Tossing their heads in sprightly dance.

The waves beside them danced, but they
Out-did the sparkling leaves in glee;
A poet could not be but gay,
In such a jocund company!
I gazed - and gazed - but little thought
What wealth the show to me had brought:

For oft, when on my couch I lie
In vacant or in pensive mood,
They flash upon that inward eye
Which is the bliss of solitude;
And then my heart with pleasure fills,
And dances with the daffodils.

~ William Wordsworth
Nature Poems: A Seed
See how a seed, which Autumn has flung down,
And through the winter neglected lay,
Uncoils two little green leaves and two brown,
With tiny root taking hold on the clay
As, lifting and strengthening day by day,
It pushes red branchless, sprouts new leaves,
And cell after cell the Power in it weaves
Out of the storehouse of soil and clime,
To fashion a tree in due course of time;
Tree with rough bark and boughs' expansion,
Where the crow can build his mansion,
Or a man, in some new May,
Lie under whispering leaves and say,
"Are the ills of one's life so very bad
When a green tree makes me deliciously glad?"
As I do now. But where shall I be
When this little seed is a tall green tree?

~ William Allingham
Birds in Summer
How pleasant the life of a bird must be,
Flitting about in each leafy tree;
In the leafy trees so broad and tall,
Like a green and beautiful palace hall,
With its airy chambers light and boon,
That open to sun and stars and moon;
That open to the bright blue sky,
And the frolicsome winds as they wander by.

They have left their nests on the forest bough;
Those homes of delight they need not now;
And the young and the old they wander out,
And traverse their green world round about;
And hark! at the top of this leafy hall,
How one to the other in love they call!
"Come up! Come up!" they seem to say,
"Where the topmost twigs in the breezes sway."

"Come up! come up! for the world is fair
Where the merry leaves dance in the summer air."
And the birds below give back the cry,
"We come, we come to the branches high."
How pleasant the lives of the birds must be,
Living in love in a leafy tree!
And away through the air what joy to go,
And to look on the green, bright earth below!

How pleasant the life of a bird must be,
Skimming about on the breezy sea,
Cresting the billows like silvery foam,
Then wheeling away to its cliff-built home!
What joy it must be to sail, upborne,
By a strong free wing, through the rosy morn,
To meet the young sun, face to face,
And pierce, like a shaft, the boundless space!

To pass through the bowers of the silver cloud;
To sing in the thunder hall aloud;
To spread out the wings for a wild, free flight
With the upper cloud-wings, oh, what delight!
Oh, what would I give, like a bird, to go,
Right on through the arch of the sun lit bow,
And see how the waterdrops are kissed
Into green and yellow and amethyst.

How pleasant the life of a bird must be,
Wherever it listeth, there to flee;
To go, when a joyful fancy calls,
Dashing down 'mong the waterfalls;
Then wheeling about, with its mate at play,
Above and below, and among the spray,
Hither and thither, with screams as wild
As the laughing mirth of a rosy child.

What joy it must be, like a living breeze,
To flutter about 'mid the flowering trees;

Lightly to soar, and to see beneath,
The wastes of the blossoming purple heath,
And the yellow furze, like fields of gold,
That gladdened some fairy region old!
On the mountain tops, on the billowy sea,
On the leafy stems of a forest tree,
How pleasant the life of a bird must be!

~ Mary Howitt
Apache Blessing
May the sun bring you new energy by day,
May the moon softly restore you by night,
May the rain wash away your worries,
May the breeze blow new strength into your being,
May you walk gently through the world and know it's
beauty all the days of your life.
Advice from a Tree
Stand Tall and Proud
Go Out on a Limb
Remember Your Roots
Drink Plenty of Water
Be Content With Your Natural Beauty
Enjoy the View
Nature Quotes, Quotes about Nature
Moonbeams and starlight cast a soft, luminous glow warming up my soul. ~ Rainey
Nature holds the key to our aesthetic, intellectual, cognitive and even spiritual satisfaction. ~ E.O. Wilson
The sun does not shine for a few trees and flowers, but for the wide world's joy. ~ Henry Ward Beecher
Nature is painting for us, day after day, pictures of infinite beauty. ~ John Ruskin
The trees that are slow to grow bear the best fruit. ~ Molière
If you enjoyed reading our Nature poems then perhaps you would like to read poems about the seasons. Follow the links to find Winter, and Spring poems, or poems about Summer or most people's favorite season of the year when the leaves change colors in the Fall.
Do you have any suggestions or ideas for other nature poetry to include on this page?
Please submit your favorite nature poem.

Thanks for visiting Nature poems
Other Inspirational & Motivational Sites:-
Footprints Poem - "One night a man had a dream ..."

Inspirational Living
Inspirational living is a web site designed to help people. You've accomplished something most people dream about---you've found a web site that goes the extra length to help you with any issue or question you may have in your life!

Inspirational Poetry, Love Poetry, Christian Poetry- Uplifting, heartfelt christian & romance poetry & lyrical verse written by J.C. Justice. This writer bases her poetic verse on personal life experiences, with the hope of impacting and encouraging others.

Inspirational Quotes -The Best Inspirational quotes, online or by daily email

Inspirational poems 'n' ideas - poems for every occasion


Quotable Online
Large collection of famous quotations that will amuse, motivate and inspire you. Also contains photo gallery of famous people, great books that you can read online and games.