FATHERS DAY POEMS
Fathers Day in the USA, Canada, and UK is celebrated on the third Sunday in June. This year Father's Day falls on Sunday June 21, 2020.
Father's day poems - celebrate fatherhood and the wonders of being or having a Dad.


Happy Father's Day
Some fathers work with cattle,
while others build machines,
Some do their work in fancy suits
and others work in jeans

But Dad, it doesn't matter
what kind of work you do,
I think you are the GREATEST...
Happy Father's Day to YOU!
Dad in a Million
When God was making Fathers
As far as I can see,
He spent a lot of time on one
And saved that on for me.

He made a perfect gentleman
Compassionate and kind,
With more patience and affection
Than you could hope to find.

He gave this special person
A heart of solid gold,
And after God had finished
He must have broken the mould.
Here is a sample of a Father's Day poem from a young child to Dad on Father's Day.
Walk With Me, Daddy
Walk alongside me, Daddy
and hold my little hand
I have so many things to learn
that I don't yet understand
Teach me things to keep me safe
from dangers every day.
Show me how to do my best
at home, at school, at play
Every child needs a gentle hand
to guide them as they grow.
So walk alongside me, Daddy
We have a long way to go.

~ Helen Bush
Dad, Thank You
Thank you for the laughter,
For the good times that we share,
Thanks for always listening,
For trying to be fair.
Thank you for your comfort,
When things are going bad,
Thank you for the shoulder,
To cry on when I'm sad.
This poem is a reminder that
All my life through,
I'll be thanking Heaven
For a Special Dad like you.
My Father's Wings
Not only a father,
but also a Dad,
You always give all
of whatever you have.

Like the eagle you soar
with great hope and great faith,
in God your foundation,
Who gives you grace.

I give you my thanks
for your strength and direction,
the shelter and shield
of your loving protection,

and offer God's praise
when I'm reminded of
how you carry me through
on the wings of your love.
What Makes a Dad
God took the strength of a mountain,
The majesty of a tree,
The warmth of a summer sun,
The calm of a quiet sea,
The generous soul of nature,
The comforting arm of night,
The wisdom of the ages,
The power of the eagle's flight,
The joy of a morning in spring,
The faith of a mustard seed,
The patience of eternity,
The depth of a family need,
Then God combined these qualities,
When there was nothing more to add,
He knew His masterpiece was complete,
And so,

He called it ... Dad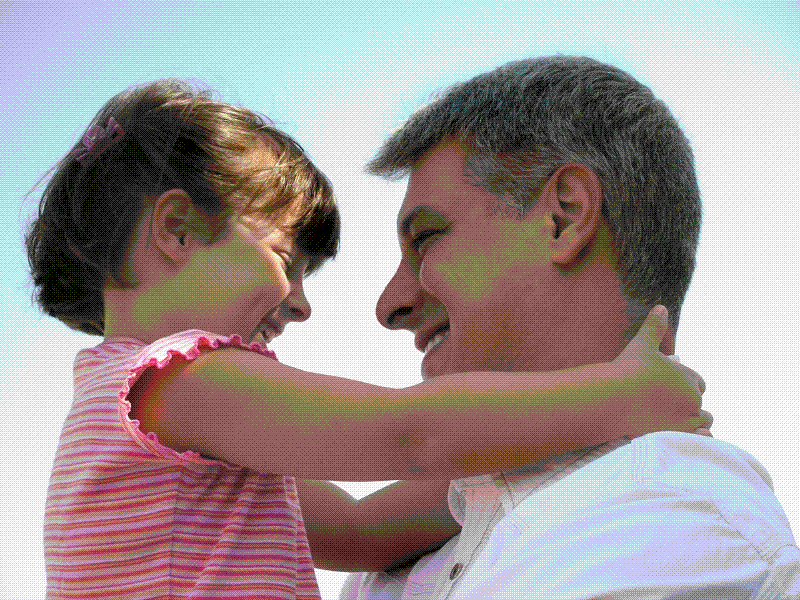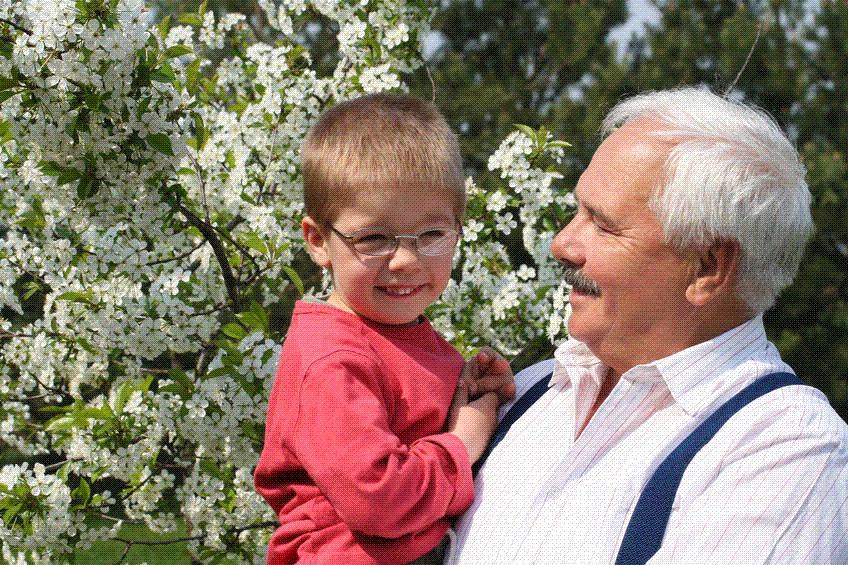 Fathers are Wonderful People
Fathers are Wonderful People
Too little understood,
And we do not sing their praises
As often as we should...

For, somehow, Father seems to be
The man who pays the bills,
While Mother binds up little hurts
And nurses all our ills...

And Father struggles daily
To live up to "HIS IMAGE"
As protector and provider
And "hero or the scrimmage...

And perhaps that is the reason
We sometimes get the notion,
That Fathers are not subject
To the thing we call emotion,

But if you look inside Dad's heart,
Where no one else can see
You'll find he's sentimental
And as "soft" as he can be...

But he's so busy every day
In the grueling race of life,
He leaves the sentimental stuff
To his partner and his wife...

But Fathers are just WONDERFUL
In a million different ways,
And they merit loving compliments
And accolade of praise,

For the only reason Dad aspires
To fortune and success
Is to make the family proud of him
And to bring them happiness...

And like OUR HEAVENLY FATHER,
He's a guardian and a guide,
Someone that we can count on
To be ALWAYS ON OUR SIDE.

~ Helen Steiner Rice
Fathers Day Poems From A Child
To Dad On Father's Day
I sure hope this Father's Day
Is your very best by far,

Extra nice and extra fun
The way you always are.

Times are fun when you're around,
No nicer Dad could ever be found!

You're the greatest kind of Dad
Any kid has ever had...
Fathers Day Poem: My Little Hand
Take my little hand in yours
Teach me wrong from right
Read me bedtime stories
And tuck me in each night
Fill my mind with wonder
And my little heart with love
Teach me about Jesus
How He sent me from above
Help me to always understand
The things I need to know
For it's you who I'll be watching
Each day as I grow
And I'll want to be just like you
When I'm all grown up someday
So take my little hand in yours
and lead me on my way!
Daddy, I Love You
Daddy, I love you
For all that you do.
I'll kiss you and hug you
"Cause you love me, too.
You feed me and need me
To teach you to play,
So smile 'cause I love you
On this Father's Day.
Father
Fathers day is nearly here
But deep inside I'm sad
For fathers day reminds me
Of the great dad I once had
~ John F. Connor
Happy Fathers Day
Fathers are wonderful people
Too little understood,
And we do not sing their praises
As often as we should...
But fathers are just wonderful
In a million different ways,
And they merit loving compliments
And accolades of praise,
For the only reason Dad aspires
To fortune and success
Is to make the family proud of him
And to bring them happiness...
And like our Heavenly Father,
He's a guardian and a guide,
Someone that we can count on
To be always on our side.
Thank You, Dad
No words can totally express,
Those bits of shared happiness;
No thought could fully grasp,
How wide and deep is your love.

How can I ever forget?
All those memories we have shared;
Your love is as fresh as the morning dew,
For that my daddy I say thank you.

Words may never be enough,
How proud I am that you're my Dad;
Years may not be sufficient to count it all,
With your life I am truly grateful.

Thank you for your sweet embraces,
And for your patience that never ceases;
Thank you because you are always there,
Thank you Dad for your unending care.
Happy Father's Day
Our Fathers
Our fathers toil with hands and heart
To make our lives complete.
They quietly brave the winter cold,
Endure the summer heat.

Our fathers' lives are busy, but
There's always time for us.
They boldly face the ups and downs
And seldom never fuss.

Our fathers are the greatest dads.
We know you know this too.
But thank you for the chance to share
Our love for them with you
~ David A. Olds
Father's Day Poem From A Daughter
You may have thought I didn't see,
Or that I hadn't heard.
Life lessons that you taught me,
But I got every word.
Perhaps you thought I missed it all,
And that we'd grow apart,
But Dad, I picked up everything,
It's written on my heart.
Without you Dad,
I wouldn't be the woman I am today;
You built a strong foundation,
No one can take away.
I've grown up with your values,
And I'm very glad I did.
So here's to you, dear father
From your forever grateful kid.
Happy Father's Day
A Dad is a person
who is loving and kind,
And often he knows
what you have on your mind.
He's someone who listens,
suggests and defends.
A dad can be one
of your very best friends!
He's proud of your triumphs,
but when things go wrong,
A dad can be patient
and helpful and strong.
In all that you do,
a dad's love plays a part.
There's always a place for him
deep in your heart.
And each year that passes,
you're even more glad,
More grateful and proud
just to call him your dad!
Thank you, Dad...
for listening and caring,
for giving and sharing,
but, especially for just being you!
Happy Father's Day
A Father Means
A Father means so many things...
An understanding heart,
A source of strength and of support
Right from the very start.
A constant readiness to help
In a kind and thoughtful way.
With encouragement and forgiveness
No matter what comes your way.
A special generosity and always affection, too
A Father means so many things
When he's a man like you...
~ Author Unknown
A Father Is...
There in every memory
See his love and care
Strength and hands to count on
Freely he does share
Provider, toil so faithfully
To make our dreams come true
Give strong and tender discipline
Though it is hard to do
A Father is God's chosen one
To lead the family
And point it to His will for life
Of love and harmony.
~ Sue Skeen
A Father Just Like You
I just want to let you know
You mean the world to me
Only a heart as dear as yours
Would give so unselfishly

The many things you've done
All the times that you were there
Help me to know deep down inside
How much you really care

Even though I might not say
I appreciate all you do
Richly blessed is how I feel
Having a father just like you
Here's a poem that US Poet Laureate, Robert Pinsky, read out for Dad's and Grandad's across the United States:-
Manners
for a child of 1918
My grandfather said to me
as we sat on the wagon seat,
"Be sure to remember to always
speak to everyone you meet."

We met a stranger on foot.
My grandfather's whip tapped his hat.
"Good day, sir. Good day. A fine day."
And I said it and bowed where I sat.

Then we overtook a boy we knew
with his big pet crow on his shoulder.
"Always offer everyone a ride;
don't forget that when you get older,"

my grandfather said. So Willy
climbed up with us, but the crow
gave a "Caw!" and flew off. I was worried.
How would he know where to go?

But he flew a little way at a time
from fence post to fence post, ahead;
and when Willy whistled he answered.
"A fine bird," my grandfather said,

and he's well brought up. See, he answers
nicely when he's spoken to.
Man or beast, that's good manners.
Be sure that you both always do."

When automobiles went by,
the dust hid the people's faces,
but we shouted "Good day! Good day!
Fine day!" at the top of our voices.

When we came to Hustler Hill,
he said that the mare was tired,
so we all got down and walked,
as our good manners required.
~ Elizabeth Bishop
A Father's Day Poem
You never said I'm leaving
You never said goodbye
You were gone before I knew it,
And only God knew why
A million times I needed you,
A million times I cried
If love alone could have saved you,
You never would have died
In life I loved you dearly
In death I love you still
In my heart you hold a place,
That no one could ever fill
It broke my heart to lose you,
But you didn't go alone
For part of me went with you,
The day God took you home.
In Memory of My Dad
If I could write a story
It would be the greatest ever told
Of a kind and loving father
Who had a heart of gold

I could write a million pages
But still be unable to say,
Just how much I love and miss him
Every single day.

I will remember all he taught me
I'm hurt but won't be sad
Because he'll send me down the answers
And he'll always be MY DAD.
Dear Dad...
I thought of you with love today
but that is nothing new
I thought about you yesterday
and the days before that too.
I think of you in silence
and often speak your name
All I have are memories
and your picture in a frame.
Your memory is my keepsake
with which I'll never part
God has you in his keeping
I have you in my heart.
Father's Day In Heaven
I love you and I miss you, Dad,
and though you've passed away,
you'll never be forgotten,
for I think of you each day.
If heaven celebrates this day
how special it will be.
A gathering of the many dads
upon our family tree.
Your father and grandfather
and great grandfather too.
How wonderful it is, if they
can spend this day with you.

May you know how much I love you
though I'm here and you are there.
Happy Father's Day in heaven
to the best dad anywhere!
~ Ron Tranmer
Father's Day
With Father's Day around the corner
I just want to say: Dad,
remembering you is easy, I do it every day
but missing you is the heartache that never goes away.
Poem for Dads
What we'd give if we could say
Hello, Dad, in the same old way
To hear your voice, see your smile
To sit with you and chat awhile..
So you who have your Father
Cherish him with care
For you'll never know
the heartache
Till you see his
vacant chair..
And here is a great thought provoking quote that I came across:

Small boys become big men through the influence of big men who care about small boys.
~ Anonymous
Visit Special Moments for great ideas for Father's Day.

We'd love to receive your suggestions for poems to be added to this fathers day poems page.

Find a christian fathers day blessing and prayer you can use at home or in church at fathers day prayer.


Father's Day Poems Great Sites for Fathers
All About Fathers - learn the history of Father's Day, find just the right gift for your Father and get information on all things Dads like to do.

Topps - Offering baseball, football, basketball and hockey trading cards and products. We ship worldwide. Adding new inventory daily. Visit our fan shop.

Cheap Manco Go Cart Products - We'll keep interested in our manco go carts all day. Look at our wide selection of go carts, off road go carts, amateur go carts, and go cart parts from manco. Buy a pre-built go cart or build your own; we've got kits, manuals, and more!

Gift Baskets - high quality gift baskets suitable for all those special occasions - weddings, birthdays, Mother's Day, Fathers Day, etc. Free ground shipping throughout US mainland.

Gift Ideas for Dad

Millionaire Business Opportunities
What would you do if you had a million dollars? Find out how to start your internet business to earn $$$'s.

Super Scooter Shops - We sell electric motor scooters, gas motor scooters, pocket bikes, atv's and choppers. This is fun and safe for everyone. We want to provide scooters as a means to an alternative cheap transportation.

Affordable Gifts And Collectibles For All Occasions - we're your online shopping source for affordable gifts and collectibles, birthday gifts, wedding gifts, anniversary gifts, mother's day gifts, father's day gifts, holidays gifts, home decor and more..