CHRISTMAS POEMS & READINGS
Christmas is a very popular holiday which is celebrated on December 25th every year. It is a holiday that celebrates the birth of Christ and is associated with traditional customs of gift giving, tree decorating, Christmas carols and of course Santa Claus.
As you hang the ornaments on the tree, sing carols and eagerly await Santa's arrival, here are some of my favourite Christmas poetry to keep you in the festive spirit.
Real Joy
What is Christmas without Jesus Christ?
It's a holiday full of stuff.
Money and stress, teaching kids greed,
Some people are saying "Enough!"

"Love one another," our Saviour said.
It's all about love, not things.
Let's teach our children to serve, and create
The real joy the true Christmas brings.

~ Joanna Fuchs
Christmas Greetings
for a Friend
The Christmas Day brings memories
And kindest thoughts untold,
Of friends we may not often see
But hope to always hold;
So may this greeting be a link
In friendship's precious chain,
And may there be a Christmas Day
When we shall meet again
Poems for Christmas
These verses are less well-known but paint a lovely picture of the Eve before the Big Day:-
Christmas Eve Poem
Christmas Eve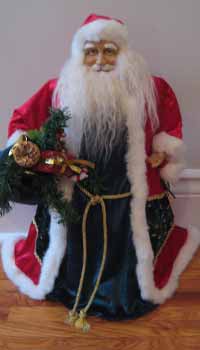 CHRISTMAS hath darkness
Brighter than the blazing noon,
Christmas hath a chillness
Warmer than the heat of June,
Christmas hath a beauty
Lovelier than the world can show:
For Christmas bringeth Jesus,
Brought for us so low.

Earth, strike up your music,
Birds that sing and bells that ring;
Heaven hath answering music
For all Angels soon to sing:
Earth, put on your whitest
Bridal robe of spotless snow:
For Christmas bringeth Jesus,
Brought for us so low.
~ Christina Rossetti
As we grow older our Christmas list gets smaller and we find out that the things we really want can't be bought.
Most Popular Christmas Reading
This poem was originally published in the Troy, New York Sentinel in 1823. Also known as "A Visit from St. Nicholas" this Christmas reading is a favourite among children, and one of the most famous pieces of holiday poetry, loved by adults and children alike, which sums up the spirit and feel of the holiday season so well.
'Twas the Night Before Christmas
'Twas the night before Christmas, when all through the house
not a creature was stirring, not even a mouse.
The stockings were hung by the chimney with care,
in hopes that St. Nicholas soon would be there.

The children were nestled all snug in their beds,
while visions of sugar plums danced in their heads.
And Mama in her 'kerchief, and I in my cap,
had just settled our brains for a long winter's nap.

When out on the roof there arose such a clatter,
I sprang from my bed to see what was the matter.
Away to the window I flew like a flash,
tore open the shutter, and threw up the sash.

The moon on the breast of the new-fallen snow
gave the lustre of midday to objects below,
when, what to my wondering eyes should appear,
but a miniature sleigh and eight tiny reindeer.

With a little old driver, so lively and quick,
I knew in a moment it must be St. Nick.
More rapid than eagles, his courses they came,
and he whistled and shouted and called them by name:

"Now Dasher! Now Dancer!
Now, Prancer and Vixen!
On, Comet! On, Cupid!
On, Donner and Blitzen!
To the top of the porch!
To the top of the wall!
Now dash away! Dash away!
Dash away all!"

As dry leaves that before the wild hurricane fly,
when they meet with an obstacle, mount to the sky
so up to the house-top the courses they flew,
with the sleigh full of toys, and St. Nicholas too.

And then, in a twinkling, I heard on the roof
the prancing and pawing of each little hoof.
As I drew in my head and was turning around,
down the chimney St. Nicholas came with a bound.

He was dressed all in fur, from his head to his foot,
and his clothes were all tarnished with ashes and soot.
A bundle of toys he had flung on his back,
and he looked like a peddler just opening his pack.

His eyes--how they twinkled! His dimples, how merry!
His cheeks were like roses, his nose like a cherry!
His droll little mouth was drawn up like a bow,
and the beard on his chin was as white as the snow.
The stump of a pipe he held tight in his teeth,
and the smoke it encircled his head like a wreath.
He had a broad face and a little round belly,
that shook when he laughed, like a bowl full of jelly.

He was chubby and plump, a right jolly old elf,
and I laughed when I saw him, in spite of myself.
A wink of his eye and a twist of his head
soon gave me to know I had nothing to dread.

He spoke not a word, but went straight to his work,
and filled all the stockings, then turned with a jerk.
And laying his finger aside of his nose,
and giving a nod, up the chimney he rose.

He sprang to his sleigh, to his team gave a whistle,
And away they all flew like the down of a thistle.
But I heard him exclaim, 'ere he drove out of sight,
"Happy Christmas to all, and to all a good night!"
~ Clement Clarke Moore
Christmas Time
Christmas Time is finally here,
It only comes but once a year.
And it's a time to spread good cheer,
To those we love and hold so dear.

Christmas Time is a time of glee,
A time when peace and love run free.
A time for those like you and me,
To sit beneath the Christmas Tree.

Christmas Time is a time of joy,
A time to sit back and enjoy.
The smile on each girl and boy,
As they play with a Christmas Toy.

Christmas Time is a time to share,
The passing of another year.
Birth of Jesus, a joyful prayer,
To show loved ones how much we care.

Christmas Time is a time for song,
A time for us to get along.
To make us feel Lord Jesus strong,
Forgive all those who did us wrong.

Christmas Time is a time to pray,
Put love and kindness on display.
Show compassion along the way,
Christmas Time should be everyday
~ Ronald Doe
Christmas Day
A baby is a harmless thing
And wins our hearts with one accord,
And Flower of Babies was their King,
Jesus Christ our Lord.
Lily of lilies He
Upon His Mother's knee;
Rose of roses, soon to be
Crown with thorns on leafless tree.

A lamb is innocent and mild
And merry on the soft green sod;
And Jesus Christ, the Undefiled,
Is the Lamb of God.
Only spotless He
Upon His Mother's knee;
White and ruddy, soon to be
Sacrificed for you and me.

Nay, lamb is not so sweet a word,
Nor lily half so pure a name;
Another name our hearts hath stirred,
Kindling them to flame.
"Jesus" certainly
Is music and melody.
Heart with heart in harmony
Carol we and worship we.
~ Christina Rossetti
At Christmas
A man is at his finest towards the finish of the year;
He is almost what he should be when the Christmas season is here;
Then he's thinking more of others than he's thought the months before,
And the laughter of his children is a joy worth toiling for.
He is less a selfish creature than at any other time;
When the Christmas spirit rules him he comes close to the sublime.

When it's Christmas man is bigger and is better in his part;
He is keener for the service that is prompted by the heart.
All the petty thoughts and narrow seem to vanish for awhile
And the true reward he's seeking is the glory of a smile.
Then for others he is toiling and somehow it seems to me
That at Christmas he is almost what God wanted him to be.

If I had to paint a picture of a man I think I'd wait
Till he'd fought his selfish battles and had put aside his hate.
I'd not catch him at his labors when his thoughts are all of pelf,
On the long days and the dreary when he's striving for himself.
I'd not take him when he's sneering, when he's scornful or depressed,
But I'd look for him at Christmas when he's shining at his best.

Man is ever in a struggle and he's oft misunderstood;
There are days the worst that's in him is the master of the good,
But at Christmas kindness rules him and he puts himself aside
And his petty hates are vanquished and his heart is opened wide.
Oh, I don't know how to say it, but somehow it seems to me
That at Christmas man is almost what God sent him here to be.
~ Edgar Albert Guest
Christmas Prayers
A Prayer for Christmas Morning
The day of joy returns, Father in Heaven, and crowns another year with peace and good will.
Help us rightly to remember the birth of Jesus, that we may share in the song of the angels,
the gladness of the shepherds, and the worship of the wise men.
Close the doors of hate and open the doors of love all over the world?
Let kindness come with every gift and good desires with every greeting.
Deliver us from evil, by the blessing that Christ brings, and teach us to be merry with clean hearts.
May the Christmas morning make us happy to be thy children,
And the Christmas evening bring us to our bed with grateful thoughts, forgiving and forgiven, for Jesus sake.
Amen
~ Robert Louis Stevenson
A Christmas Prayer
Jesus, the Light of the World, as we celebrate your birth . . . .
may we begin to see the world in the light of the understanding you give us.
As you chose the lowly, the outcasts, and the poor to receive the greatest news the world had ever known,
so may we worship you in meekness of heart.
May we also remember our brothers and sisters less fortunate than ourselves in this season of giving.
Amen
Santa's Prayer
My dear precious Jesus, I did not mean to take your place,
I only bring toys and things and you bring love and grace.
People give me lists of wishes and hope that they came true;
But you hear prayers of the heart and promise your will to do.
Children try to be good and not to cry when I am coming to town;
But you love them unconditionally and that love will abound.
I leave only a bag of toys and temporary joy for a season;
But you leave a heart of love, full of purpose and reasons.
I have a lot of believers and what one might call fame;
But I never healed the blind or tried to help the lame.
I have rosy cheeks and a voice full of laughter;
But no nail—scarred hands or a promise of the hereafter.
You may find several of me in town or at a mall;
But there is only one omnipotent you, to answer a sinner's call.
And so, my dear precious Jesus, I kneel here to pray;
To worship and adore you on this, your holy birthday.
Here are some Christmas Poems you can send to a friend to wish them Merry Christmas.
My Christmas Wish For You
My Christmas wish for you, my friend
Is not a simple one
For I wish you hope and joy and peace
Days filled with warmth and sun

I wish you love and friendship too
Throughout the coming year
Lots of laughter and happiness
To fill your world with cheer

May you count your blessings, one by one
And when totaled by the lot
May you find all you've been given
To be more than what you sought

May your journeys be short, your burdens light
May your spirit never grow old
May all your clouds have silver linings
And your rainbows pots of gold

I wish this all and so much more
May all your dreams come true
May you have a Merry Christmas friend and a Happy New Year, too.
~ Ruth Kephart
Christmas Movies
They warm our hearts and restore our faith in humanity.
What better way to bond with loved ones than watching
a holiday classic.
Which is your favorite movie for the holidays?

Scrooge
White Christmas
Miracle on 34th Street
A Christmas Carol
Nativity
How the Grinch Stole Christmas
Frosty the Snowman
A Christmas Story
Die Hard
Bad Santa
Elf
It's a Wonderful Life
National Lampoon's Christmas Vacation
Love Actually
A Christmas Poem
I have a list of folks I know, all written in a book,
And every year when Christmas comes, I go and take a look.
And that is when I realize that these names are a part
Not of the book they are written in, but really of my heart.

For each name stands for someone who has crossed my path sometime,
And in the meeting they've become the rhythm in each rhyme.
And while it sounds fantastic for me to make this claim,
I really feel that I'm composed of each remembered name.

And while you may not be aware of my special kink
Just meeting you has changed my life a lot more than you think.
For once I've met somebody, the years cannot erase
The memory of a pleasant word or a friendly face.

So never think my Christmas cards are just a mere routine
Of name upon a Christmas list, forgotten in between,
For when I send a Christmas card that is addressed to you,
It is because you're on the list that I'm Indebted to.

For I am but a total of the many folks I've met,
And you happen to be one of those I prefer not to forget.
And whether I've known you for many years or few,
In some ways you have a part in shaping things I do.

And every year when Christmas comes, I realize anew,
The best gifts life can offer is meeting folks like you.
And may the spirit of Christmas that forever endures
Leave its richest blessings in the heart of you and yours.
~ Harrison Yocum
In The Bleak Mid Winter
In the bleak midwinter
Frosty wind made moan,
Earth stood hard as iron,
Water like a stone;
Snow had fallen, snow on snow,
Snow on snow,
In the bleak midwinter, Long ago

Our God, Heaven cannot hold Him
Nor earth sustain;
Heaven and earth shall flee away
When He comes to reign:
In the bleak mid-winter
A stable-place sufficed
The Lord God Almighty,
Jesus Christ.

Enough for Him, whom cherubim
Worship night and day,
A breastful of milk
And a mangerful of hay;
Enough for Him, whom angels
Fall down before,
The ox and ass and camel
Which adore.

Angels and archangels
May have gathered there,
Cherubim and seraphim
Thronged the air,
But only His mother
In her maiden bliss,
Worshipped the Beloved
With a kiss.

What can I give him,
Poor as I am?
If I were a shepherd
I would bring a lamb,
If I were a wise man
I would do my part,
Yet what I can I give Him,
Give my heart.
~ Christina Rossetti
Merry Christmas
Carols in the distance,
Laughter everywhere,
I can smell Christmas
Floating in the air.

Candy canes and bon bons,
Angels top the tree,
There's presents over yonder,
One for you and me!

Tinsel wrapping round and round,
Candles light the night,
Making Santa's journey,
Sparkly and bright.

A very merry Christmas,
To your family my friend,
May your new year bring happiness,
And may the joyful times not end.
Missing You At Christmas
Everyday without you,
since you had to go,
Is like summer without sunshine,
and winter without snow.

I wish that I could talk to you,
There's so much I would say,
Life has changed so very much,
since you went away.

I miss the bond between us,
amd I miss your kind support,
You're in my mind and in my heart,
and every Christmas thought.

I'll always feel you close to me,
and though you're far from sight,
I'll search for you among the stars
that shine on Christmas night.
Christmas In Heaven
Christmas In Heaven
What Do They Do?
They Come Down To Earth
To Spend It With You
So Save Them A Seat
Just One Empty Chair
You May Not See Them
But They Will Be There.
A Christmas Message from Heaven
As I look down from heaven,
on this special Christmas day,
I'll try to send you little signs,
that I never went away.
I see you when you're crying,
I feel your loss and pain,
so hold on to the knowledge,
we'll be reunited once again.
Even though you miss me,
at this special time of year,
the greatest gift you'll give me,
is your smile instead of tears.
So when Christmas starts without me,
know we're not apart,
for every time you think of me,
I'm with you in your heart.
~ Steve Wentworth
Christmas Long Ago
Frosty days and ice-still nights,
Fir trees trimmed with tiny lights,
Sound of sleigh bells in the snow,
That was Christmas long ago.

Tykes on sleds and shouts of glee,
Icy-window filigree,
Sugarplums and candle glow,
Part of Christmas long ago.

Footsteps stealthy on the stair,
Sweet-voiced carols in the air,
Stockings hanging in a row,
Tell of Christmas long ago.

Starry nights so still and blue,
Good friends calling out to you,
Life, so fact, will always slow...
For dreams of Christmas long ago.
~ Jo Geis
The Christmas Story
Once upon a time,
A long, long time ago.
Begins the story of a baby,
That most of you should know.

His daddy's name was Joseph,
And Mary was His mom,
This babe was very special
He was God's only Son.

Some angels came from heaven,
And they began to sing.
To the shepherds in the fields below,
"Glad tidings do we bring!"

A bright star lit the heavens,
To light the magi's way.
To the baby in the manger
Who was born on Christmas day.

And all who gathered round Him,
Rejoiced and praised His birth.
For the babe, the King, named Jesus,
Is our Saviour here on earth!

~ Leanne Guenther
Shine Christmas
Christmas shines forth His Truth;
That God came down to man.
Christmas shines forth His hope;
Redemption for all man.
Christmas shines forth His peace;
A peace that shines within.
Christmas shines forth His love;
And forgiveness of sin.
Christmas shines forth His Light;
And Jesus is that Light.
The light that leads the Way;
That gives the blinded sight.
Shine Christmas, shine so bright;
Touch the broken and contrite.
Shine Christmas, shine the light;
Shine on, shine on tonight.
Shine on through the snow storms;
Shine on and on through winds.
Shine on through the battles;
Shine on through foe or friend.
Shine on, Christmas, shine on;
A celebration day.
For Jesus Christ our Lord;
A beau-ti-ful day.
Shine Christmas, shine so bright;
Honor Christ, oh holy night.
Shine Christmas, shine the light;
Shine on, shine on tonight.
~ Susan Y. Nikitenko
An Irish Christmas Blessing
God send us a Happy Christmas!
His blessing be on our home;
His love be around our loved ones,
Wherever they may roam.

God send us a Holy Christmas!
His name be on every mind;
And close to the crib of Bethlehem
True happiness may we find.

God send us a Peaceful Christmas!
May the sweetness of memories throng;
Where we sit by the festive fireside,
To sing a soothing song.

God send us a Merry Christmas!
To us and all we love;
On our home may the babe of Bethlehem
Smile down from His home above.
~ Brian Higgins
Christmas Greetings
Sending warm wishes
from our house to yours.
May this beautiful season
Bring you love, joy, peace, and health.
May each new day
bring you moments to cherish!
Do you have any suggestions or ideas for other Christmas poetry
to include on this page, please submit your favorite Christmas poem.

Thanks for visiting Christmas Poems & Poetry
Christmas Poems & Poetry Great Festive Holiday Ideas
Christmas Poems and Readings - A festive collection of classic Christmas poetry.

Christmas traditions - carols, gift ideas, and Christmas holiday tips

Holiday Greetings - custom greeting cards for the holiday season

Christmas Cards, Holiday Cards, Holiday Greeting Cards - Over 1000 beautiful Holiday Card
selections offered on this interactive site, backed by an unbelievable 100% "Try before you buy,"
100% risk free guarantee. Customize and personalize with your name /company logo.
Perfect for business or personal use.

Free Letters from Santa Claus - Print your own personalized letters from Santa

Festive hairstyles - for the holiday

Cherish Life's Special Moments - holiday resource guide, party ideas, gifts, and event planning.

Santa Claus - offers great information about Santa Claus. Also, there are some exclusive Santa letters and Christmas certificates for immediate download.

Gourmet Cookies, Cookie Gift Baskets & Bouquets - deliver cookie gift baskets, dough, cookie bouquets, & personalized gifts nationwide for birthdays, thank you's and corporate gifts.

The Gift Experience - gifts for any occasion including jewellery, photo frames, personalised gifts, novelties, candles, soft toys baby gifts, anniversary gifts and general gifts.