CREATIVE WRITING
Creative writing, as opposed to journalism, is the means by which the writer conveys thoughts, feelings, and emotions rather than just relaying information.

Creative writing is not easy, but can be very rewarding when you see the finished product.
Creative Writing
You know you want to be a writer, whether it's fiction, short stories or poetry, but how do you get started and published?

You don't need a bachelors in creative writing to be a published author - you just need creativity and commitment!

The secret to becoming a creative writer is to start small, try writing a poem or short story.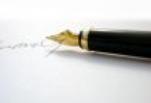 Gather your ideas and start writing.

Don't be too focused on the quality of your work.
Just put pen to paper and let your creative juices flow!
Creative Writing Resources
We've found the following creative writing websites to be most helpful in giving ideas and dates for poetry contests:-
If you're stuck for ideas on your writing - there are some simple ways that you can get those creative juices flowing again:-
Creative Writing Ideas
Write down a list of all your own experiences in life, at work, at home - this is a great way to get started on successful writing. Just consider how well-loved books and TV series like "Little House on the Prairie" came to fruition. Laura Ingalls Wilder wrote best when she wrote about what she knew!
If this doesn't inspire you, there are many online resources that offer creative writing prompts to help you get started. These ideas might provide just what you need to start that novel or short story.

Creative Writing Prompts can be found at writersdigest.
If you are more interested in communicating with your peers, receiving feedback on your writing, or finding out about creative writing contests and competitions you might want to join a creative writing forum.
Get Paid for your Creative Writing
Get motivated by money - did you know that you can get paid for your writing?
Online companies like Elance offer you the opportunity to bid for all sorts of writing from articles to books.
You don't even need your own website - and you can get started straight away.
Good Habits of Creative Writers
Did you know that the English writer Graham Green attributes his success to a simple habit?
He made himself write at least 500 words daily, whether he was feeling like it or not.

Even if you don't feel like you're "in the mood," write something
- even if it's an article for someone else's website that you email off to them!
Creative Writing Courses
Really not sure whether your writing is good enough? Why not improve your writing skills by signing up for one of the many creative writing courses offered at university and college campuses, neighborhood continuing education classes, or take one of the creative writing courses available online that will help you to improve your style.

Thanks for visiting - I hope that you will find some great ideas for your creative writing.